I feel like such a cool kid...my first "linky" party! A big Thank You to Holly and Amy for hosting!
So...onto the blog you've all been waiting for...the mystery of what Meredith does all day:
My day starts out with about a 30-45-60 minute date with the snooze button. I saw this on Pinterest and literally laughed out loud because it fits me perfectly (well except for the times - mine starts at 5:15 am).
I am NOT a morning person and that is putting it lightly. My husband leaves before I even get out of bed and sometimes I think he does it just to avoid talking to me in the morning. Then I do the morning rush of shower, hair, make up, feeding dogs, packing lunches...oh and the infamous Mommy Daughter Morning Mania. My 2 year old daughter hates getting up too!
Then it's a cup of joe and the DFW traffic battle...ugh! BUT I absolutely love my real job...check out who I got to take a pic with :) I plan festivals and events for the City of Farmers Branch and it is my DREAM job. Yep I really do love 20 hour days, rockin' my face off and all the stress that comes along with it.
Lunch is typically sitting at my desk reading the blogs of the day, catching up on Pinterest and chatting with my hubby (through text message of course...most conversations we have are texts...romantic huh?). I don't eat out much but when I do it is typically something unhealthy :) Sometimes my hubby and I play the battle of the lunches...I think I won this one!
His Mine
After work comes my favorite part of the day...where I truly get to be eat, drink, run and be mommy! It's only a few hours but we cram as much into that time as we can.
Eat
...I love to cook but most of all eat! Weeknight dinners are pretty much always at home and are quick and simple...our faves include quesadillas, spaghetti and of course breakfast for dinner. I have a great sous chef and she loves to help with anything and everything.
Drink
...My wind down each day is when the house is quiet and everyone else is in bed. I grab a glass of wine (and the remote) and catch up on shows (Food Network, Grey's Anatomy, Private Practice and my guilty pleasure Bachelor Pad*), post on my blog or fill
Cuddlebug Cards
orders.
*Can you believe what happened last night??? Ugh...I would have punched him!
Run
...The hubs and I are running partners and I love it (Awe!) He is FAST...can run laps around me but pushes me further and harder than I ever thought I could go. We have been running together for about 9 months and run about 2.5-3 miles four or five times a week. I have lost 15 pounds this year thanks to him (pics and the story to come later...I've got about 5-10 more to go). My goal - a 10K by next spring.
Be Mommy
...My FAVORITE part! I have the most precious, adorable, funny, sweet, lovable little 2 year old (see below). Nightly activities include kisses, hide and seek, tickling, funny stories, hugs, playing school where she gets to be my "mommy", holding hands, dancing, belly laughs, riding her tricycle around the block and finally rocking her and cuddling before going to bed and of course more hugs and kisses.
And that's my day..I'm really excited about meeting new blog friends and following some new blogs :)
For my Pinterest Challenge followers - don't worry - I will post Day 11 later today.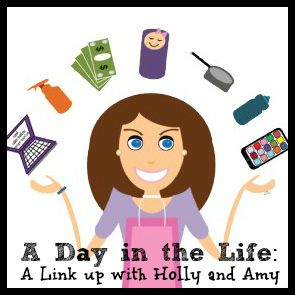 Pin It